DAVID BAIN FREE - INNOCENT - AS PREDICTED on 27th March 2009 !
Jun 5, 2009 5:25 pm
Pic NZ Herald. THE BAIN CASE, POSSIBLY THE BIGGEST CASE OF IT'S KIND IN NZ'S HISTORY. DAVID HAS BEEN VINDICATED; ROBIN BAIN WAS THE DARK MURDERER WHO TOOK HIS SINS TO THE GRAVE - THE POLICE ARE DISAPPOINTED - Nothing unusual. THE "TRUTH" HAS FINALLY BEEN BROUGHT TO BARE?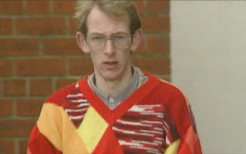 THE FOLLOWING IS THE ORIGINAL STORY I WROTE ON THE 27th MARCH 2009. ENJOY THE STORY.
David Bain is accused of killing his parents and siblings. The Crown has previously decided it was David who did the unthinkable. The police have not, according to the defense and the majority of the public and senior councils of law, been as effective or efficient at gathering evidence nor putting their case together in a manner befitting today's crime management and forensic practices.
ACCORDING TO MY FORENSICS, David Bain is innocent and will be a Free man within three months. Robin Bain, had he not pulled the trigger on himself would be serving time in his Majesties guesthouse and would have experienced heart problems, ending the matter.
How do I know David Bain is innocent? Let's look at the psychometric evidence.
ROBIN BAIN, irrespective of what is already public about his life, had a serious emotional event in 1989 which affected the whole family. This matter was kept closely guarded by Margaret Bain but her emotions were felt by the whole family and this was the turning point, the change in direction which led to the events of the Bain killings.
What happened in 1989 may be remembered by David, but he was the only one that appeared least affected by it. David internalised this matter and was very quiet about it. This was, and always has been, his way of dealing with sensitive matters.
LANIET was not an easy girl to control. Her very nature was that of a determined and willful, and at times, a very rebellious girl. When she turned 13 in 1989, Laniet desired and gained more freedom to do as she pleased and she would have been very popular with friends at school.
But, the event of 89 seemed to support her new found interest and desire to break free from the chains of restraint she'd had in the previous 4 years; 1985 - 88. The family as a whole began to suffer from a problem that arose late in 1985 and into 86, and this is where Margaret and Robin had an unexpected challenge which affected Margaret measurably.
MARGARET was a motherly woman, relaxed about life, and she was not one to make fuss over matters, but she would stand her ground on truth and justice when required. During 1989, right through to 1993, when Margaret took on a strong and determined persona. In 1991 a matter affected the whole family, and. . .
STEPHEN became under pressure and felt restricted to such a degree he realised he could do nothing, about anything, except push on under stress and confinement;
LANIET was more verbal and adventurous than she had ever been and was experimenting with more fun and seemingly driven by emotional excitement. There were a few pitfalls for her during the year but this did not hinder her determination to carry on 'living' life like never before -this continued through to 1993 when she got a 'hell of a fright' which left her in an emotional bind.
ARAWA experienced personal life challenges during 1991 and an event, potentially in June or September could have caused her to shudder and bring to the forefront, matters she may have assumed were unfounded in her mind at least. Although she dismissed matters after a time, it was in 1993 when the worst year of her short life dawned and she suffered great shock and anguish; she began to contemplate moving on...
DAVID BAIN during 1991 started to become more internalised with what he was doing and even though matters around him left him in deep thought, he remained mostly silent about the events going on around him, saying little and reacting the least of all the Bain family.
David began to take on a lot more work and responsibility related matters during 1993. His quiet manner was even more so blanketed by some event or set of circumstances that he would rather not have discussed with anybody.
David is such a quiet, yet precise individual, when calm, yet the matters relating to 1993 were stressful and he kept very much to himself. David literally didn't want to know anything about what was going on, and in his private world, he became more uncomfortable about the matters arising during that year.
MARGARET BAIN experienced or became aware of an event around August of 1991 which managed at a personal level. However, this was the beginning of difficult times for her and she picked up on small but significant matters which she turned a blind eye to.
For Margaret, it was the events that jolted her in February and November of 1993 that gave rise to matters that were almost too much to manage. She became stressed, trying to figure out what to do. But the previous months and years had conditioned her to put up with things that were disturbing and troublesome; Margaret maintained silence and tried to figure things through.
November 93 through January 94 were horrid months for Margaret and it may have been a very unpleasant holiday period for her. Late in May, just before she was murdered, Margaret became seriously affected by matters and she would have been under immense emotional pressure.
ROBIN BAIN (the father), late in 1989 decided after much considering and deliberation during the year that he had had enough of the major changes taking place in his life. His attempt at freedom to choose his lifestyle and purpose was hindered by his emotional pressures and responsibilities to his career as a school principal.
During 1991, Robin had an experience that shook him. Around July through October, Robin became very quiet and withdrawn. He was unable to express anything and his mind was under intense pressure, seeking a way through the mental torment.
1993 was the critical year for Robin Bain. He had to make decisions and sought freedom from the world around him. Serious matters had come to the forefront during August and September, and disturbed him greatly, and he was becoming anxious about his life. this is not what he'd envisaged the way things should be and he'd have been in total meltdown.
MONDAY MORNING, JUNE 20 1994, Robin Bain may have experienced a bad dream, a restless night. The month had given rise to many unexpected events for Robin, and two and a half hours before sunrise Robin was in the living room of the house, lying dead on the floor. His wife, his children, all except David, were laying dead in their rooms, shot by a .22 caliber rifle with a silencer fitted.
The home computer was on. The screen had a message on it that read; "Sorry, you were the only one who deserved to stay".
WHO DID IT? Who wrote the message? What was the motive? Why did the police leave out evidence, destroy other evidence, move evidence during photo shoots, not take evidence for forensic testing?
If the message was left by the father, Robin Bain, for his eldest son David who was out on his paper run, why did he spare his life?
Here are my views.
David Bain was the quiet one of all the siblings. He was not annoying or determined as was his younger brother Stephen.
David was not stroppy, he was not about to engineer the destruction of his father's life due to events that may have been (sexually) 'out of bounds'. Robin was about to be discovered. His daughter Laniet was coming home to blow the whistle on him.
Laniet had been living with her father in the Caravan at the house when he was home on weekends. Robin lived in a van behind the school where he was a Principal during the week. Robin had a horrid life. He was out-cast from his family (WHY?) he was lonely, Laniet was strong and stroppy too, She was having a bad year and Daddy may have been more than a comfort, leading to...???
David was not like Arawa, his other sister, who was just short of her 20th birthday. She was strong willed and determined. Her words un-edited, and her heart led by principles. She was a danger to Robin also. Her remarks would potentially cut and damage his career with what had been going on with Laniet; should she open her mouth.
David was quiet, minding his own business. He listened and did not force his opinions. He was aware things were going on but not that would seem apparent. David was safe. David was Robin's eldest son. David did not deserve to die.
Margaret and Robin Bain, were a separated couple in every respect, except for his residing outside like a backpacker in a caravan on weekends.
Margaret was generally a friendly person, but of late, nearly seven years late, she'd become strong and determined, not giving into anything she did not like. Margaret had turned. She no longer took nonsense within the family structure and managed affairs of the home and family. Robin Bain was an outsider, he remained an attachment to the family only, probably due to religious overtones, respecting, as is often required by Christian principles they once shared.
Margaret was a woman in her own right at last. She would not tollerate anything anymore from the man who fathered her children, and especially if it was to become public that he had been interfering with his own daughter.
Robin Bain had a lot to lose. A Principal of a school, but in his mind, the walls of deception were wearing thin and the police and public were about to become aware of his antics. What was he to do? What possible way out was there? Robin needed to be free from the impending judgement upon his tormented soul.
Robin Bain made a wrong decision. He had no right to do as he had done with Laniet and other matters his past activities had placed him in.
We may never know the whole truth, but one thing is certain from my perspective, David Bain did not kill his family; his mother, father and siblings; it is not in his nature, in his life, nor was he capable of the events leading up to that fateful day.
Everyone else in the Bain family had indicators of events that were about to happen on that fateful day, but David's indicators have only shown the aftermath, accurately.
Maybe, this whole matter was David's purpose, to seek and find justice in a weakened police system which at times with similar cases in New Zealand, where the authorities have planted dirty evidence simply to 'clean a job up' and put an end to the matter.
Some are accountable for this terrible matter, but not David Bain.
PETER VAUGHAN PREDICTS; "DAVID IS A FREE MAN VERY SOON".
More Stories tagged under Criminal :

Tell me lies tell me sweet little lies

Canada's Election Sept 2021

Conspiracies Revealed by the Numbers

The Rise and Fall of a PM

(Air NZ) Is a Prediction I made in June 2015 unfolding...?

Mike Hosking, you love, or loathe him