Michael Schumacher, more than critical according to Data Logistics
Dec 30, 2013 3:34 pm
Rich or poor, famous or not, Nature has rules that cannot be broken, but they can be bent.

The problem is for Michael, he had no idea this critical event was coming his way, nor did his wife Corinna have any notion her husband was about to be on deaths door.

But the question is... what if they were informed ahead of time; would they have listened?

Eric Hertz of 2 Degrees Mobile was told of an impending, and major series of events ahead for him, 4 months and 6 days before he flew his light aircraft into the sea, killing him, his wife, and bringing about the changes to the Company that were all calculated by Data Logistics and presented to him on 24th November 2012.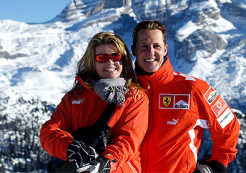 As the 'Breaking News' of Michael Schumacher circulated the World on the 29th December 2013, a quick glance of his statistics and those of his wife Corinna - after the fact, clearly show that his head trauma is more serious that the World hopes, and it shows up in equal form on both of their Logistic Profiles.
Now that the life threatening event has taken place, and he is in a coma after he hit his head on a rock during a skiing holiday in the Swiss Alps, what I see ahead for him is very grim.
Corinna's profile has moved into a pattern that indicates her entire life is in the midst of change and the next few years for her are very 'flat' to say the least.
Medical intervention is the only thing that is presently keeping Michael alive, and this is now heavily dependent on the 'brain trauma' specialist, Professor Gerard Saillant, to do what he can with Michael.
"He suffered head trauma with coma that needed prompt neurosurgical treatment," Schumacher's agent said in a statement late in the evening, which a hospital official read to reporters.
"He remains in a critical condition."
Schumacher has had accidents before, including a motorcycle crash in February 2009 in Cartagena, Spain, where he damaged a vertebra, a rib and the bottom of his skull. This too is clearly indicated on his Logistics Profile and was another accident that could have killed him.
At the time of that accident, his doctor, Johannes Peil, said it had caused the racer the most serious long-term harm of his career.
What is more interesting to me in this case, is that Michael has had close brushes with death before, but his wife's analytics show clearly NOW, that Michael is seriously in a worse state.
I know that this event will potentially have Michael crippled for the rest of his life, if he makes it through this current critical period. I hold a shaky candle for him for which only time will reveal an outcome.
Corinna has indicators that show January to be a very telling month, and Michael, well, the whole of 2014 is a complete disaster in any event. This is a wait and see moment for which only the magic of medical guru's have the ability and say in the outcome.
Without them, Michael is already a fallen star.
Please, using the laws of 2, 3, or even 4 Degrees of Separation, pass this on to people you know who may benefit from the information I can provide to others, and wave warning 'yellow flag's for our friends before an unseen event raises its ugly head.
Peter Vaughan.
More Stories tagged under Celebrities :

Kills, Guts Joe live, on New Zealand Television

Michael Schumacher Prediction from Dec 2013 has unfolded.

Sir Richard Branson - Another Prediction Comes to Pass
Ewen Gilmour R.I.P. January 22nd 1963 - October 3rd 2014

Suicide always leaves Tell Tale Evidence behind

MR SPOCK, Leonard Simon Nimoy

TUA Vs CAMERON; and the Winner is...

OPRAH WINFREY - THE WIND OF TIME IS CHANGING FOR YOU.