Ewen Gilmour R.I.P. January 22nd 1963 - October 3rd 2014
Oct 5, 2014 10:36 am
The loss of a celebrity always fills the headlines. But it always seems (after the fact) that we pay more attention to those "who've just met with tragedy" than those still here to entertain us.

Cases in point, Billy Connolly and Mike King as examples.

A 'string' of events ensued on my PC when I asked the FaceBook community for help. This is what followed.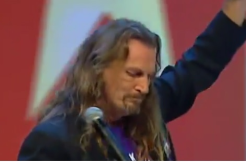 To further my study in a field of research on death and dying, I needed some basic information to ascertain Ewen's condition leading up to his death using my skills.
My research is intended to help others avoid meeting the same fate way too early in life, and my research is providing outstanding statistical success. The following was provided on the Public Domain of FaceBook.
3rd October 10:21:
I asked the FaceBook World...
"Anyone know the birth date of Ewen Gilmour. His name was David Ewen Gilmour. The reason for my interest is to offer insight as to why he died and what can be done about making sense of his demise and help others from meeting or experiencing the same fate. In so discovering his birth date, I can provide information ahead of time for others approaching 'danger points' and so avoid an early horrid event".
"I have great respect for privacy and my work is investigatory and not for glorification as some may suggest. I appreciate your understanding and if I discover the answers as to what Gilmour likely died from, it can help others with the work and books I am working on for people to have a better/longer life".
Victoria Taylor, Alan Moffitt, Carolyn Smith and 4 others like this.
Deb Boyle Something I didnt know: http://www.ewengilmour.com/weddings/
Like . Reply . 1 . 3 October at 10:28
Deb Boyle He was 51 yrs old thats all I could find
Like . Reply . 3 October at 10:33
Jess Scales January 22nd 1963 was his birthday
Like . Reply . 3 October at 11:45
Alecia Zeta Bunting So we don't always pass when we are meant to?
Like . Reply . 3 October at 12:36
Peter Vaughan > "I conducted a study in 1998 that made me realise that we have been provided with a life length of some significance but there had to be something that indicated people died too early, and I found it.
Like . Reply . 1 . 3 October at 13:58
Peter Vaughan > "The Presidents of the USA were sometimes assassinated and the event showed up on the First Lady's profile as a major event (tragic loss). But what was amazing was the evidence of what happened to the (now deceased) President when his wife died some years later... This is what blew me away...
[Note: People have 'Personal Days' not associated with the general Day, Month and Year for all people, and on the day JF Kennedy died (Nov 22nd 1963), Jackie experienced an 11 & 13 Day "vibe" - When Jacqueline died May 29th 1994, John Kennedy experienced an 11 & 13 Day "vibe" too. For more info on this discovery, you'll have to contact me].
Continued...
Like . Reply . 1 . 3 October at 14:00
Peter Vaughan > "The First Lady dies, and the Profile of the deceased President shows a "Tragic Loss". This discovery led me to look at so many more partners and family situations where a close member dies or has a massive accident or some other trauma, and then generally, every other member of the family - even close friends, all had a similar "tragic marker" appear on their Profiles too.
Like . Reply . 1 . 3 October at 14:03
Peter Vaughan > "Where Ewen's Profile is Right Now is in the exact same pattern that was experienced by Princess Diana. I do not wish to further the material I have here on Ewen at this time or on this media. However, those that may be interested, I would be happy to see what I can do, but let's wait a bit.
Like . Reply . 1 . 3 October at 14:07
Peter Vaughan > "Contact me by private message if you wish but I will not entertain any people who make any comments that I find are unbalanced. My work is very important and breakthroughs like the ability to identify susceptible person's to suicide have been discovered using my skills and tools of late. Thanks for those that have helped in this sensitive matter... Kind regards, Peter Vaughan.
Like . Reply . 3 . 3 October at 14:10
Alecia Zeta Bunting Thanks for that Peter Vaughan very interesting and useful. Thank you for your time
Like . Reply . 3 October at 14:20
Peter Vaughan "Welcome Alecia. PS, You and Ewen have a lot in common in your name make-up
Like . 3 October at 16:23
Peter Vaughan
Peter Vaughan > "After studying Ewen's Profile, I can see that 2 main culprits are the likely indicators for his condition and passing. For some time he has been living with 'frequencies' which are deeply connected with his Personality. Everyone has 'vibes' and we can feel another's "VIBES" when they are in a bad mood or hiding something naughty perhaps, but Ewen's vibes were the same as his heart pulse (vibe) rate and the last 3 years was like he was travelling over a rocky road, so he was experiencing a lot of changes.
Like . Reply .3 October at 16:00
Peter Vaughan > "Last year was heavier than normal from what I can calculate, and I would suggest he was doing more thinking and 'mentally stressing' over what was going on in his life. 2014 comes with the added element of blood problems. This does not mean he had leukemia type conditions, but stress on a person's mind certainly increases blood pressure....
Like . Reply . 3 October at 16:03
Peter Vaughan > "The Heart and Blood seemed to have collided in a crossroads in his life only this morning and it could be as simple as an embolism set off by as something as simple as a dream he may have been having that increased his physical blood tension.
Heart and Brain are the two organs that stand out in Ewen's case from what I can calculate at this time in his life. I can only suggest he was in a state of decline and 2015 would have been escalating his health concerns.
My mention of a dream, can be better understood when you wake from an [emotional] "moving" dream and find your heart pounding. The dream affects your blood, muscles, nerves and so forth and so if there is any weakness, the high tension in the body can be dangerous to you.
[Note: Ewen had an 11, 13 & 16 set of "Vibes" going on at his death - the 16 codes relate to poor health and Heart in the negative sense].
Continued...
My estimate of his life expectancy would have been 75, and under different lifestyle and health conditions, he may have made 84.
RIP young man. We will remember you. I do, because I met you many years ago in a radio station and we were both going to be interviewed on air, and the receptionist said "who are you?" And you said; "I'm Jesus and I'm looking for where I put my cross!" She was shocked and I p&**%d myself laughing.
See ya much later David Ewen Gilmour. END
I will be interested to the findings of the Coroner on this one as it all helps to further the discoveries I have made thus far in this field.
Kind regards, all - Peter Vaughan.
More Stories tagged under Celebrities :

Kills, Guts Joe live, on New Zealand Television

Michael Schumacher Prediction from Dec 2013 has unfolded.

Sir Richard Branson - Another Prediction Comes to Pass

Suicide always leaves Tell Tale Evidence behind

MR SPOCK, Leonard Simon Nimoy

Michael Schumacher, more than critical according to Data Logistics

TUA Vs CAMERON; and the Winner is...

OPRAH WINFREY - THE WIND OF TIME IS CHANGING FOR YOU.