Kills, Guts Joe live, on New Zealand Television
Mar 16, 2015 1:54 pm
Simon Cowell is well known for shows like "Pop Idol / X-Factor / American Idol and Britain's Got Talent".

But who the hell is 'Kills & Moon'? It seems they are an infamous pair who made mockery of NZ's version of the 'wannabe' talent show.

Pictured; "Bieber and Cleopatra" look alike couple who verbally gutted Joe Irvine, live on "NZ's TV3 X-Factor" show on Sunday night Mar. 15, 2015.

Pictured; Natalia Kills, Willy Moon, and inset, Joe Irvine.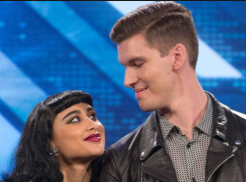 Well don't names just say it all, and if you say name's in a particular order, like; "Kills and Moon" it makes sense with what has just happened on the recent New Zealand X Factor show; Sunday 15th March 2015.

Here would be 'my' tag line - "Natalia Kills Irvine" live on Tele! What a show, and what perfect timing too.

Take a look at the clip over on Youtube

98% of New Zealand's viewing audience feel Kills went too far.

According to "Kills" birth name and 'delicate' age (and copy-cat look-a-like of Cleopatra), she was right on target, stepped on her own detonator and blew herself up in front of a live audience. The world will see this as it will go viral and her chart reflects her stupidity and nastiness. There was no need for her "Over" opinionated and Self-centred outburst in a weak attempt to protect her (Justin Bieber look alike) husband.

However, she made the "boo-boo" right on time. How apt. Now, Friday the 13th has just passed. There is a lot to be said for the Number 13 when it rears its 'ugly' head over it's otherwise 'beautiful' energy. When 13 is good, it's really good, when it's bad, it's really bad, and in fact it will kill, pun intended, but statistically factual.

Kills, (aptly named) is presently in a 9+4=13 energy right now - repercussions really hit home for her by May this year and as I see it, she is done and dusted.

William George Sinclair AKA Willy Moon, is in another of the numerical Codes I have discovered that can really hurt, even destroy a person, and this is number 16. 16 can mean love, warmth and affection, laced with beauty and quality. The negative side of 16 is Major lessons, sickness and withdrawal from everyone. The way it's going for this freshly married couple, looks bleak, and it is very likely they may part company in the near future.

There was no reason for Kills wicked tongue on the live show. I feel that Simon Cowell might voice an opinion, as he does so well, and "figuratively" point the "You're Done" finger at Kills and Moon, and if anyone, Cowell would have the right to say what he's said to the International Media because he was the creator of the whole series concept.

Oh well, Life goes on for many, and in my opinion, two more idiots have joined the Darwinian Awards group of Dumb and Dumber. Even Jim Carrie ain't that Dumb and he had to 'act' that way in his film. Kills and Moon did it for real, I guess the Jokes on them. Ha!

Sponsors, Two Degrees Mobile and McDonalds are 'most displeased' and "do not condone bullying" which is exactly what Kills and Moon did to wannabe artist, Joe Irvine.

Get your own Profile and forecast at www.petervaughan.net

Peter Vaughan
More Stories tagged under Celebrities :

Michael Schumacher Prediction from Dec 2013 has unfolded.

Sir Richard Branson - Another Prediction Comes to Pass
Ewen Gilmour R.I.P. January 22nd 1963 - October 3rd 2014

Suicide always leaves Tell Tale Evidence behind

MR SPOCK, Leonard Simon Nimoy

Michael Schumacher, more than critical according to Data Logistics

TUA Vs CAMERON; and the Winner is...

OPRAH WINFREY - THE WIND OF TIME IS CHANGING FOR YOU.