Developing Story Counterspin Media in Court
Aug 31, 2022 7:50 pm
Counterspin Media in Court, but why? According to the MSM feeds, Counterspin supports conspiracy theories.
Yet an International Lawyer, Amy Benjamin, believes Counterspin is standing for the NZ people. Is there something we are not aware of that is being suppressed or hidden?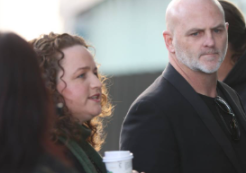 According to news feeds, Kelvin and Hannah, Pictured [Photo by George Heard - @NZherald] are accused of having distributed suppressed images or film footage of the infamous Mosque attack in Christchurch in 2019.
The content of the footage, reportedly taken by Brenton Tarrant, has been a hot topic of International media, lawyers (Amy Benjamin USA et-al), and senior investigators from overseas. They feel the "shooting" was a false flag, but why?
The footage was suppressed by order of Jacinda Ardern almost directly after the massacre, "because it was so graphic and should never be seen by anyone" she said. This is why Tarrant was sentenced to prison in solitary confinement for life, so said the Prime Minister. The heaviest sentence ever in New Zealand's history, but something is not making sense.
Stuff News aired a documentary on August 15, 2022. In the doco a photograph of the crime scene was shown. This photo was never banned or it would not have been published by Stuff News.
The photo shows a group of Muslims milling around IN THE MIDDLE OF A CRIME SCENE! They look relaxed, unconcerned, chatting with two police officers among them. Crime scenes are always cleared of people to preserve any and all evidence. So this scene makes no sense. Remember this is the biggest crime scene ever in New Zealand history.
BUT it gets worse. There is a dead body laying beside them, headless, in the gutter. One of Tarrant's victims and not one of the 14-15 people beside the body in the gutter, are paying any attention to it, not one! What could be weirder than that? Wait there's more.
I recall being shown a picture circulated by Stuff News, not long after the incident. This photo would have been taken at the very same time and place as the one in the recent Stuff News doco. The dead body was a mannequin not a real person? How do I know?
I remember seeing a different shot of the body in the gutter that Tarrant was alleged to have shot twice in the head. It was a female laying in the gutter and it's head was missing. Not blasted all over the place, just missing, no blood? How come? the picture reveals it was a mannequin as the pipe that the display head sits on was protruding from between the shoulders, but what could be worse than that?
This is incredible. A man called Nathan Smith, a victim at the crime scene and a witness in the ensuing court case, was in the picture using the 'headless body' as an arm rest as he talked casually to another person. I'd forgotten this till I saw the picture in Stuff News doco. I now believe Kelvin Alp has a valid point.
This Mosque shooting looks like a conspiracy, not a theory. It looks staged. Nothing makes sense. Stuff news must have known about this. Now they have potentially shot themselves in the foot. This needs disclosure and investigation and this is possibly what Kelvin was trying to bring into the open.
If that is so, then it raises serious questions. Counterspin Media have tried to reveal a Government cover up. This would certainly place the Prime Minister in a very precarious situation. Did she know? She must have as nothing this big can happen without her being fully informed. But what for?
The pictures and documentary Stuff News produced and aired on public media, appears to be an attempt to down-play and shame Kelvin Alp. Stuff News have exposed evidence, key evidence, a Smoking Gun! This has to be investigated.
This also poses another crucial question, is Stuff News involved in this? They took the pictures and they released them. That was their mistake. Kelvin may have opened a can of worms the Government would not want exposed. Too late it seems, Stuff News has inadvertently helped Kelvin. New Zealand is waking up.
I truly hope Kelvin and Hannah are being looked after. Where are our Lawyers in this country? Is it only New Zealand citizens doing what professionals should be digging into. This is 'BREAKING' Head-Line news! One of the biggest crimes in modern history.