Its on TV, it must be true
Aug 15, 2022 10:41 pm
Jacinda Ardern, "I will never tell a lie"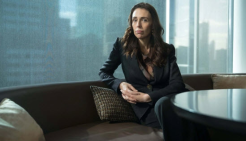 Politicians lie right in your face
As a youngster I stood directly in front of people and though their focus was directed at me, I was invisible. I reckon politicians would love to be able to do that. But how did I do that trick?
As a kid growing up I loved watching magic tricks, but I knew it was not real. Seeing a woman cut in half on a stage was a stage act, entertainment, a 'magic trick', yet people covered their mouths in horror and squirmed. They weren't being lied to, they were watching a skilled artist. No harm done.
My youth involved my being a weekend cinema goer and I ended up working there in the evenings, even became a projectionist, it was wonderful. I discovered I could go right behind the screen during movies and look at the audience through the perforated white canvas. I saw them but they couldn't see me.
The people's eyes seemed to be on me, it was like a one-way mirror, it was such fun. Yet it fascinated me how people reacted to things on the silver screen that weren't real. Then one day I saw the film "Wag the Dog", it stared Dustin Hoffman, one of my favourite actors.
Its on the television, it must be true
Hoffman's character was a film producer engaged by government secret agents to make a fake war for television to gaslight the people of America into believing the war was real. The purpose, to secure the President from losing the election so he could remain in office. The multiple war scenes were broadcast, the people fooled, the President stayed in office, then they ended the war.
The war was a fake, people bought it, they believed there was a war, then it ended as quickly as it began. The election secured and the people were fooled.
Do you think this could happen in today's world? It has been said many times, if you own the media, you control the people, and when you have the people in your clutches doing all you bid them do, you own the country, perhaps the world.
Media power
Propaganda, well presented in another great film by yet another famous actor Robin Williams in the box office hit "Good Morning Vietnam", where the media was controlled to hide the truth. It is possible? Does this really happen? Yes. When people cry out "Conspiracy" to the government, the media broadcast that the people are conspiracy theorists, that is until they are caught, then the conspiracy is revealed, the government lied. Time and again conspiracies are planned, and people die.
Climate change - real or fake?
Like comparing a pea to a basketball, earth is tiny against the sun. At 151 million kilometres away the intense light and the heat the sun provides, powers the earth. All industry, human's and living organisms, producing gasses that are no match against the approximate 1800 active volcano emissions spewing out above and below the oceans.
We can't cap volcanoes and living creatures don't compare diddly squat to mega farting volcanoes. It's all about tax! 'Paid off' scientist are told to ignore the sun, programme their computer models to follow the government narratives, but the true scientists will bluntly look you in the eye and say "the sun controls the climate' it always has, it always will"! Conspirators don't want you to know this, it buggers their plan.
Emissions from the manufacturing of electric cars, far outweighs fossil fuelled vehicles, including their manufacture and years of running on petroleum fuels hands down! So what is the truth? The truth is the government tells lies and even our local main stream media with its award winning morning radio host, Mike Hosking, has said exactly that, Ardern and her government are lying.
One last matter
And, it's carbon dioxide (not carbon) from fires, exhausts and volcanoes that makes plants grow so we can eat. Biology 1-01, and there's a big difference between Carbon (and) Carbon dioxide. The gas does not float up and become a climate hazard, it's heavy, lies on the ground, gets absorbed by the soil and the ocean, plants utilise it for existence as we use oxygen for existence.
Co2 is not toxic, nor is nitrogen as they are telling us it is. Both gasses are essential to plant growth. Nitrogen is 70% of the air we breathe and we're not suffering. Vile propaganda and lies spew from the governments mouths to create fear in the people so they will do the government's bidding.
Remember this: The image of Jacinda Ardern is of a person who publicly stated to the nation in her election debate; "I will never lie - I believe you can be a politician and never tell a lie". She lied about lying and she still does it. She is not trustworthy and she controls the media!